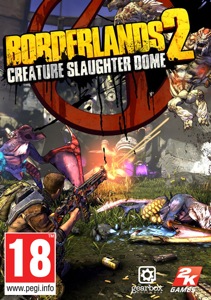 Produkte
Borderlands 2: TK Bahas Blutige Ernte (Download): 1,99 Euro
Borderlands 2: Mercenary Day (Download): 1,99 Euro
Borderlands 2: Sir Hammerlock vs. the Son of Crawmerax (Download): 1,99 Euro
Borderlands 2: Ultimate Vault Hunters Upgrade Pack (Download): 3,50 Euro
Borderlands 2: Creature Slaughter Dome (Download): 3,50 Euro
Borderlands 2: Ultimate Vault Hunter Upgrade Pack 2: Digistruct Peak Challenge (Download): 3,50 Euro
Borderlands 2: Tiny Tina's Assault on Dragon Keep (Download): 8,99 Euro
Borderlands 2 - Mechromancer (Download): 8,99 Euro
Borderlands 2 - Mr. Torgue's Campaign of Carnage (Download): 8,99 Euro
Borderlands 2 - Sir Hammerlock's Big Game Hunt (Download): 8,99 Euro
Borderlands 2 - Captain Scarlett and her Pirate's Booty (Download): 8,99 Euro
Borderlands 2: Psycho Pack (Download): 8,99 Euro
Borderlands: The Pre-Sequel Handsome Jack Pack (download): 8,95 Euro
Borderlands: The Pre-Sequel Lady Hammerlock the Baroness (Download): 8,95 Euro
Borderlands: The Pre-Sequel UVHUP & The Holodome Onslaught (Download): 8,95 Euro
Borderlands: The Pre-Sequel: Claptastic Voyage und Ultimate Vault Hunter Upgrade Pack 2 (Download): 9,95 Euro
Borderlands 2 (Download): 17,99 Euro
Borderlands 2 Season Pass (Download): 23,99 Euro
Borderlands: The Pre-Sequel Season Pass (download): 23,99 Euro
Borderlands: Game of the Year Edition (Box): 24,99 Euro
Borderlands 2: Game of the Year Edition (Download): 39,99 Euro
Borderlands: The Pre-Sequel (Download): 49,99 Euro

Systemanforderungen:
Mac OS X 10.7
Mac OS X 10.8
Supported Video Cards:
NVIDIA GeForce® 8800, GT 120, 320M, 330M, 650M, 640M, 660M, 675MX, 680MX
ATI Radeon HD 2600, HD 3870, HD 4670, HD 4850, HD 5670, HD 5750, HD 5770, HD 5870, HD 6630, HD 6490, HD 6750, HD 6770, HD 6970
Intel HD Graphics 3000, 4000
Gamepad support:
Borderlands 2 supports the Xbox 360 wired gamepad only. 
Other Requirements:
Borderlands 2 is required to play this add-on content
Initial installation requires one-time Internet connection for Steam authentication; software installations required (included with the game) include Steam Client.
Internet Connection and acceptance of Steam™ Subscriber Agreement required for activation. See www.steampowered.com/agreement for details
NOTICE: This game is not supported on volumes formatted as Mac OS Extended (Case Sensitive)


Die
habe ich zur Kenntnis genommen.
Borderlands 2: Creature Slaughter Dome
Können Sie den Slaughther Dome überleben?!
Betreten Sie den Creature-Slaughter Dome und kämpfen Sie gegen die härtesten Monster auf ganz Pandora. Ihre Mühe wird nicht umsonst sein. Gewonnene Erfahrung und Ausrüstung kommen Ihnen im Spiel zugute. Schlagen Sie sich tapfer, und es winken viele Belohnungen wie etwa Moxxis Rocket Launcher.