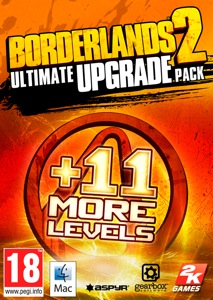 Produkte
Borderlands 2: TK Bahas Blutige Ernte (Download): 1,99 Euro
Borderlands 2: Mercenary Day (Download): 1,99 Euro
Borderlands 2: Sir Hammerlock vs. the Son of Crawmerax (Download): 1,99 Euro
Borderlands 2: Ultimate Vault Hunters Upgrade Pack (Download): 3,50 Euro
Borderlands 2: Creature Slaughter Dome (Download): 3,50 Euro
Borderlands 2: Ultimate Vault Hunter Upgrade Pack 2: Digistruct Peak Challenge (Download): 3,50 Euro
Borderlands 2: Tiny Tina's Assault on Dragon Keep (Download): 8,99 Euro
Borderlands 2 - Mechromancer (Download): 8,99 Euro
Borderlands 2 - Mr. Torgue's Campaign of Carnage (Download): 8,99 Euro
Borderlands 2 - Sir Hammerlock's Big Game Hunt (Download): 8,99 Euro
Borderlands 2 - Captain Scarlett and her Pirate's Booty (Download): 8,99 Euro
Borderlands 2: Psycho Pack (Download): 8,99 Euro
Borderlands: The Pre-Sequel Handsome Jack Pack (download): 8,95 Euro
Borderlands: The Pre-Sequel Lady Hammerlock the Baroness (Download): 8,95 Euro
Borderlands: The Pre-Sequel UVHUP & The Holodome Onslaught (Download): 8,95 Euro
Borderlands: The Pre-Sequel: Claptastic Voyage und Ultimate Vault Hunter Upgrade Pack 2 (Download): 9,95 Euro
Borderlands 2 (Download): 17,99 Euro
Borderlands 2 Season Pass (Download): 23,99 Euro
Borderlands: The Pre-Sequel Season Pass (download): 23,99 Euro
Borderlands: Game of the Year Edition (Box): 24,99 Euro
Borderlands 2: Game of the Year Edition (Download): 39,99 Euro
Borderlands: The Pre-Sequel (Download): 49,99 Euro

Systemanforderungen:
Mac OS X 10.7
Mac OS X 10.8
2.2GHz Intel Mac Core Duo
12GB HD
4096MB RAM
GeForce 8800/Radeon HD2600 256MB VRAM
Supported Video Cards:
NVIDIA GeForce® 8800, GT 120, 320M, 330M, 650M, 640M, 660M, 675MX, 680MX
ATI Radeon HD 2600, HD 3870, HD 4670, HD 4850, HD 5670, HD 5750, HD 5770, HD 5870, HD 6630, HD 6490, HD 6750, HD 6770, HD 6970
Intel HD Graphics 3000, 4000
Gamepad support:
Borderlands 2 supports the Xbox 360 wired gamepad only. 
Other Requirements:
Borderlands 2 is required to play this add-on content
Initial installation requires one-time Internet connection for Steam authentication; software installations required (included with the game) include Steam Client.
Internet Connection and acceptance of Steam™ Subscriber Agreement required for activation. See www.steampowered.com/agreement for details
NOTICE: This game is not supported on volumes formatted as Mac OS Extended (Case Sensitive)
NOTICE: If you own the Borderlands 2 Season Pass, DO NOT purchase this content here as you will be charged again.


Die
habe ich zur Kenntnis genommen.
Borderlands 2: Ultimate Vault Hunters Upgrade Pack
Take Borderlands 2 to the next level!
The Ultimate Vault Hunter's Upgrade lets you get the most out of the Borderlands 2 experience.
This pack includes level increases up to level 61.  Play through the game again with access to new weapons, gear and more.
The Ultimate Pack is part of the Borderlands 2 Season Pass, now offering even more value for the price!
Produktmerkmale:
"Pearlescent" Weapons: These extraordinarily powerful and will only drop at a minimum level of 51
New Level Cap at 61: More levels, more loot, and more importantly...more skill points to spend on special abilities as you fight your way through a 3rd playthrough!
Unauthorized copying, reverse engineering, transmission, public performance, rental, pay for play, or circumvention of copy protection is strictly prohibited © 2013 Gearbox Software, LLC. Published and distributed by 2K Games. Gearbox Software, Borderlands, and the Gearbox and Borderlands logos are trademarks of Gearbox Software, LLC. 2K Games and the 2K Games logo are trademarks of 2K Games in the US and/or other countries. Unreal, the circle-U logo and the Powered by Unreal Technology logo are trademarks or registered trademarks of Epic Games, Inc. in the United States and elsewhere. Uses Bink Video. Copyright © 1997-2013 by RAD Game Tools, Inc. This software product includes Autodesk® Scaleform® software, © 2013 Autodesk, Inc. Autodesk and Scaleform are registered trademarks or trademarks of Autodesk, Inc., and/or its subsidiaries and/or affiliates in the USA and/or other countries. Powered by Wwise © 2006 - 2013 Audiokinetic Inc. © 2013 NVIDIA Corporation. NVIDIA, the NVIDIA logo, GeForce, PhysX, The way it's meant to be played, and 3D Vision are trademarks and/or registered trademarks of NVIDIA Corporation. Published and distributed by Aspyr Media, Inc. "Aspyr" and the Aspyr "star" logo are federally registered trademarks of Aspyr Media, Inc. Mac and the Mac logo are trademarks of Apple Computer, Inc., registered in the U.S. and other countries. The ratings icon is a trademark of the Entertainment Software Association. All other marks and trademarks are the property of their respective owners. Non-transferable access to special features such as exclusive, unlockable, downloadable or online content, services, or functions may require single-use serial code, additional fee and/or online account registration (17+). Access to special features may require internet connection, may not be available to all users, and may, upon 30 days notice, be terminated, modified or offered under different terms. ne play and download requires broadband internet service. User responsible for associated fees. All rights reserved.